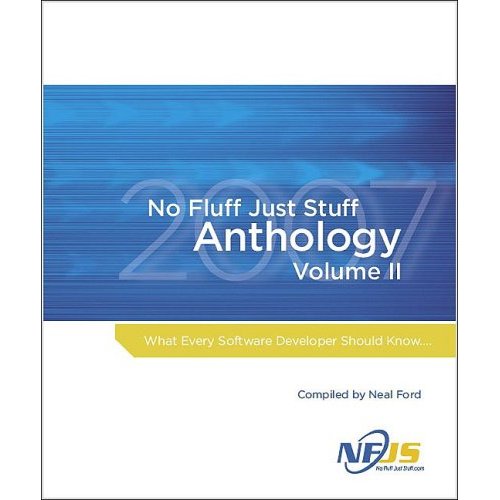 No Fluff, Just Stuff Anthology, Volume II


What Every Software Developer Shound Know

Compiled by Neal Ford

Paperback: 320 pages
Publisher: Pragmatic Press (April 2007)
ISBN: 9780978739287

These essays are a summary of the latest thinking in the industry, and range from the philosophical to the tutorial, covering the topics that the writers felt were the most important for readers today. If you feel like the neatest technology and latest ideas are passing you by, this book can help bring you back you to speed.

It's all good stuff, without any fluffy filler, as these essays are based on pre sentations given at the incredibly popular "No Fluff, Just Stuff" symposium series. Twenty-six times a year, the symposium visits a city and the speakers and attendees share ideas and perspectives. The speakers are all internationally known experts in their field.

Twenty-seven weekends a year, the No Fluff, Just Stuff conference rolls into another town, featuring the world's best technical speakers and writers. Up until now, you had to go to one of the shows to soak up their collective wisdom. Now, you can hold it in the palm of your hand. The No Fluff, Just Stuff Anthology represents topics presented on the tour, written by the speakers who created it. This book allows the authors the chance to go more in depth on the subjects for which they are passionate. It is guaranteed to surprise, enlighten, and broaden your understanding of the technical world in which you live.

The No Fluff, Just Stuff Symposium Series is a traveling conference series for software developers visiting 27 cities a year. No Fluff has put on over 75 symposia throughout the U.S. and Canada, with more than 12,000 attendees so far. Its success has been a result of focusing on high quality technical presentations, great speakers, and no marketing hype. Now this world-class material is available to you in print for the first time.
Learn to Love JavaScript by Glenn Vanderburg
The Joys of Continuations and Asynchronous Architectures by Rebecca Parsons
The Case for Groovy by Scott Davis
Give it a REST by Brian Sletten
Guerilla Testing with Cobertura, TestNG, and EasyMock by Howard Lewis Shipp
An Introduction to the Google Web Toolkit by Davie Geary
Web Testing with Selenium by Neal Ford
IntelliJ Tips, Tricks, and Techniques
Pragmatic Tips, Tricks, and Techniques: Eclipse
Improving Code Quality using Automation by Paul M. Duvall
Capistrano: Application Deployment and More by David Bock
Bootstraping Agility by Venkat Subramaniam
The Software Engineer's Guide to Usability by Nathaniel T. Schutta
Integrating Ruby with Your Legacy Code by Jared Richardson
Executable Documentation with FIT and FitNesse by David Hussman
Introducing the iBATIS Persistence Framework by Mark Richards
Data Access Using Spring, Hibernate, and JDBC by Scott Leberknight